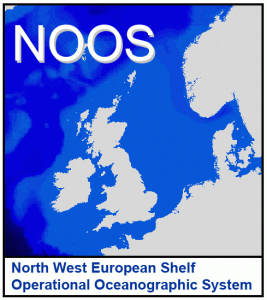 NOOS is an operational oceanography organisation. It is operated by partners from the nine countries bordering the extended North Sea and European North West Shelf: Belgium, Denmark, France, Germany, Ireland, the Netherlands, Norway, Sweden, and the UK. The partners collaborate to develop and implement ocean observing and prediction systems for the NWS area, with delivery of real time operational data products and services.
The NOOS vision is to:
develop and implement on-line operational marine data and information services.
give a reliable description of the actual marine condition of the European North West Shelf (NWS) area, including physical, sedimentological, and ecosystem variables.
provide analysis, forecasts, and model-based products describing the marine conditions.
establish a marine database from which time series and statistical analyses can be obtained, including trends and changes in the marine environment, and the economic, environmental, and social impacts.
collaborate with national and multinational agencies in the NWS area to maximise the efficiency of the ocean observing system, and to optimize the value of the marine information products.
The NOOS partners are:
ACRI-ST – France
Bundesamt für Seeschifffahrt und Hydrographie – BSH – Germany
Centre for Environment, Fisheries & Aquaculture Science – CEFAS – UK
National Institute for Coastal and Marine Management – Deltares – Netherlands
Defense Centre for Operational Oceanography – FCOO – Denmark
Danish Meteorological Institute – DMI – Denmark
Agency for Maritime and Coastal Services – MDK; Coastal Division – Belgium
French Research Institute for Exploitation of the Sea – IFREMER – France
Institute of Marine Research – IMR – Norway
Koninklijk Nederlands Meteorolologisch Instituut – KNMI – Netherlands
Marine Institute – Ireland
Meteo France – France
Met Office – UK
Norwegian Meteorological Institute – met.no – Norway
Royal Belgian Institute of Natural Sciences, Operational Directorate Natural Environment – RBINS/O.D. Nature (previously known as MUMM) – Belgium
National Oceanography Centre – NOC – UK
Rijkswaterstaat -Netherlands
Service Hydrographique et Oceanographique de la Marine – SHOM – France
Swedish Meteorological and Hydrological Institute – SMHI – Sweden
NOOS has the following associate members:
Helmholtz-Zentrum Geesthacht – Germany
Nansen Environmental and Remote Sensing Center – NERSC – Norway
Norwegian Institute for Water Research – NIVA – Norway
University of Oldenburg – UNI-Oldenburg – Germany
Website: